Congratulations! By signing up for Labfolder's electronic laboratory notebook (also referred to as an ELN, or electronic notebook), you have taken the first step towards a paperless lab. At any time (and any place) you can access your Labfolder account via eln.labfolder.com
Ready to begin the journey of optimizing your data, improving collaboration, effortlessly complying with laboratory standards, and generally making life in the lab easier? Let's get started with a little introduction to set up your ELN for success.
Structure of data
The data in Labfolder are organized in a hierarchical structure, starting from Entry Elements to Entries, Projects and Folders. You can customize each organization level to fit your own research requirements. The picture below depicts the hierarchical structure of data in Labfolder.
Labfolder follows the natural structure of your research. Mimicking the paper notebook, our ELN includes different Entry Elements that you can use for different pieces of your data (text, tables, images, etc…). These elements compose Entries that serve as a complete annotation for a certain step or experimental procedure.
Each entry belongs to a specific Project, the same way it happens with the classic notebook and you can filter for each individual project which gives you the perfect overview of everything that has been done in it.
If several projects work on the same topic to form a bigger picture you can organize them in Folders, making it easy to get a better structure your entire research.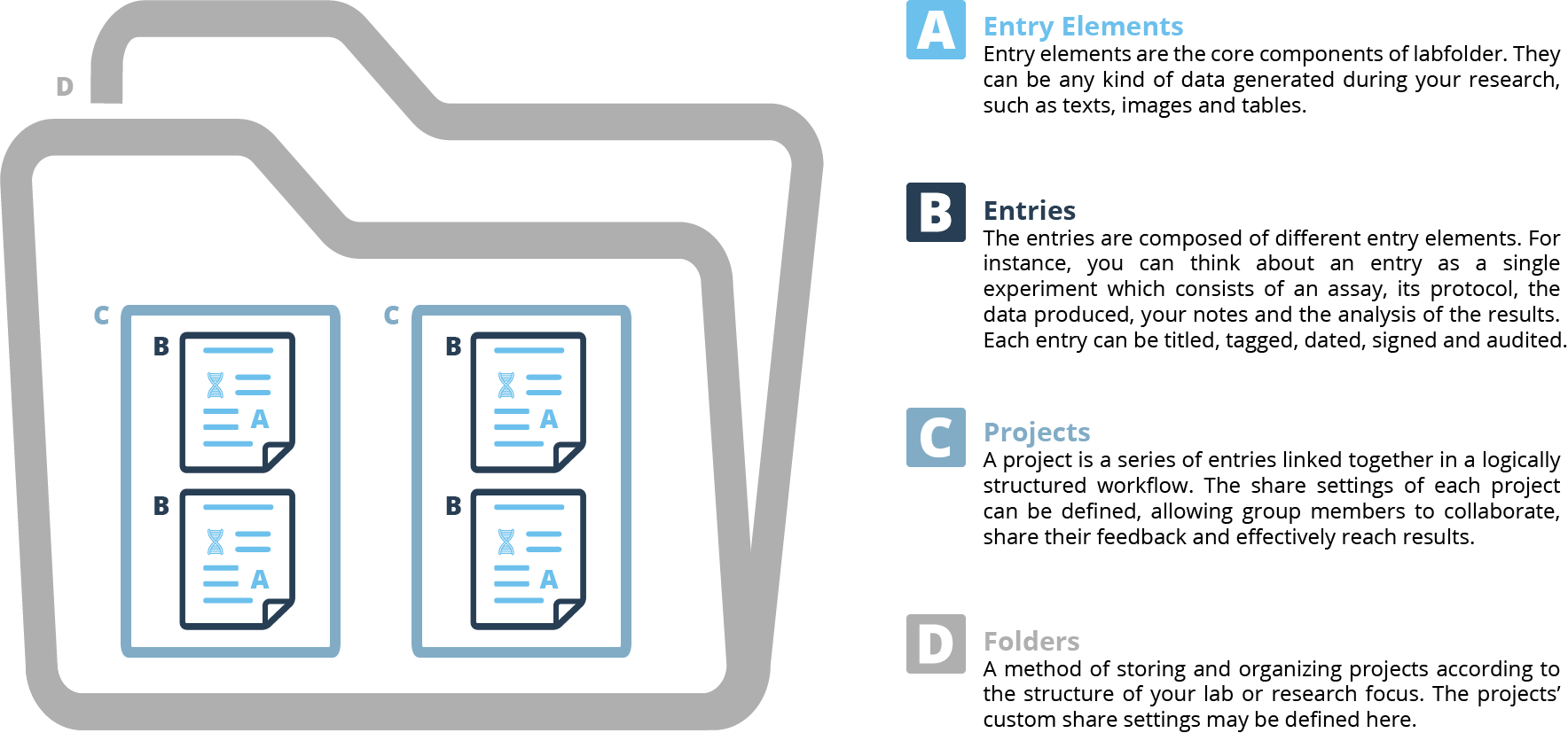 Start with your own research
Create your first project
To get started with Labfolder, you need to create your first project. Since your workflows are mostly project-based, our platform also requires a project to be created before any entries can be made. When you create a project, you need to name it and select a folder in which to save it. Once you have done that, you are all ready to get to work!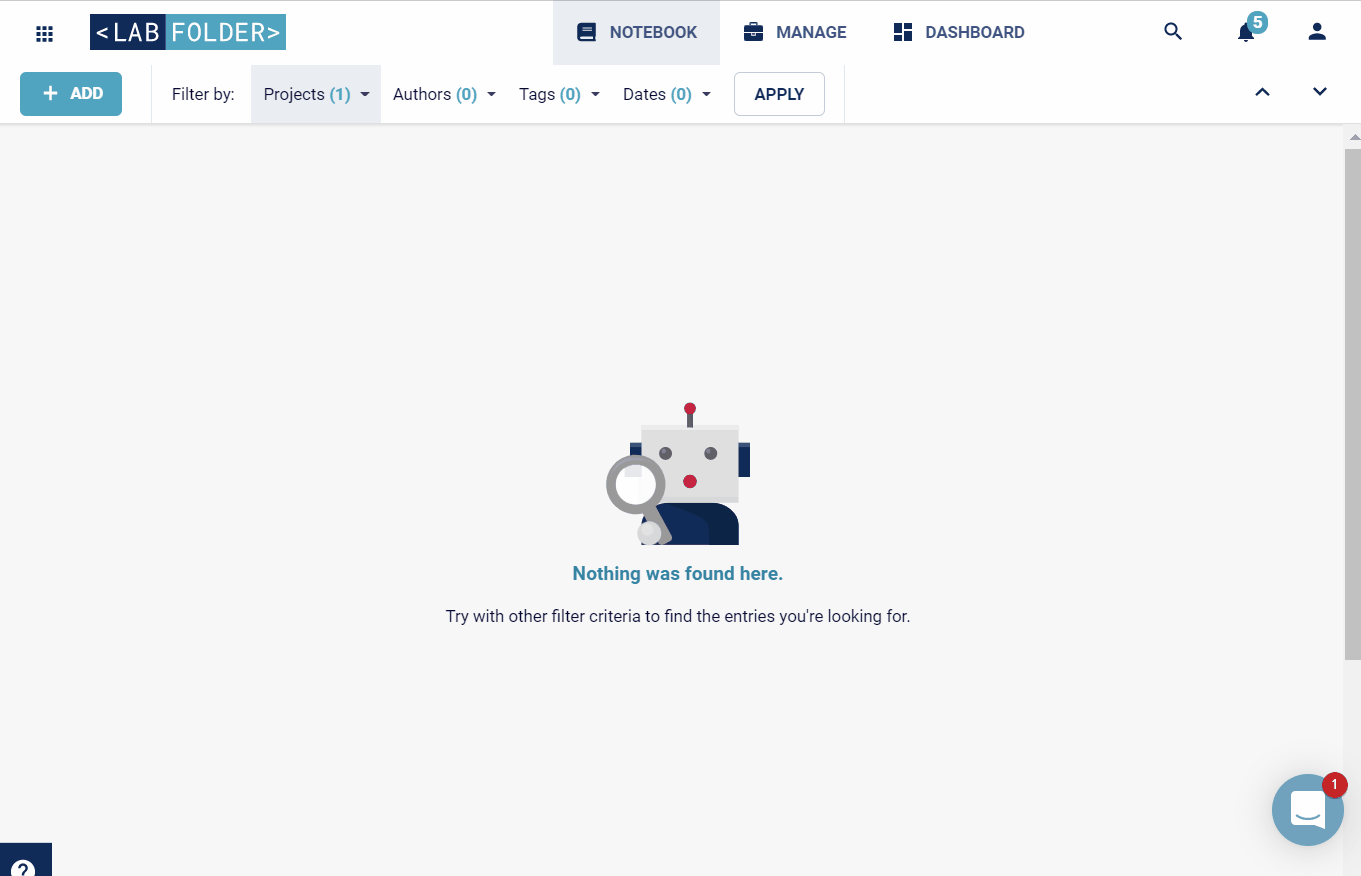 Click through to Manage > Projects.
Press the +Add button in the top left corner.
You can add either projects or folders to store multiple projects.
Add your first entry
Now that you have a project to store entries in, you can create your first entry. Then, you can start adding text, images, tables and upload files to get your lab notes to the next level.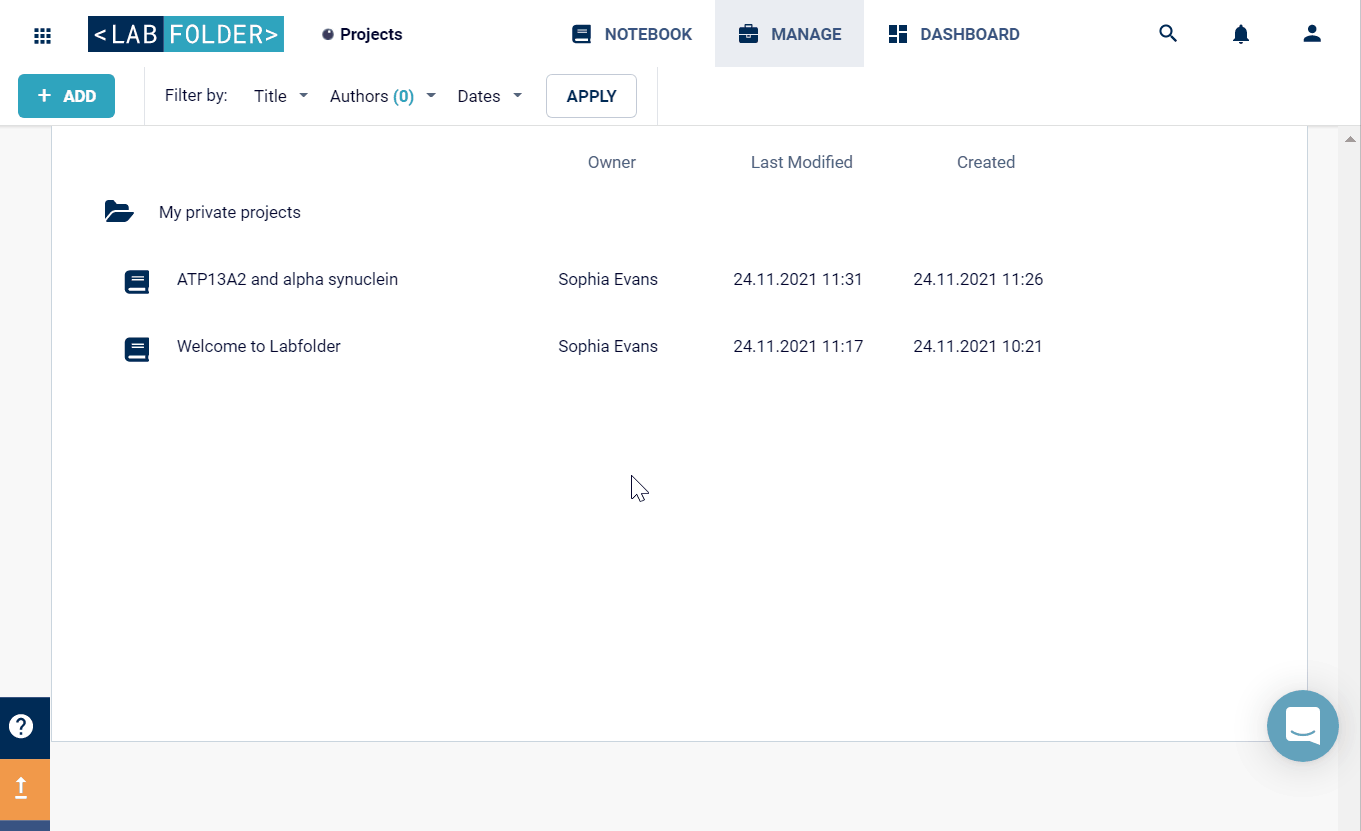 Click on your newly created project.
Click on the +Add button in the top left corner and you will have the option to add a blank entry or use an entry from a template.
Select Blank entry.
Use Labfolder with your team
Once you are familiar with Labfolder, get your colleagues to join you!
Create a group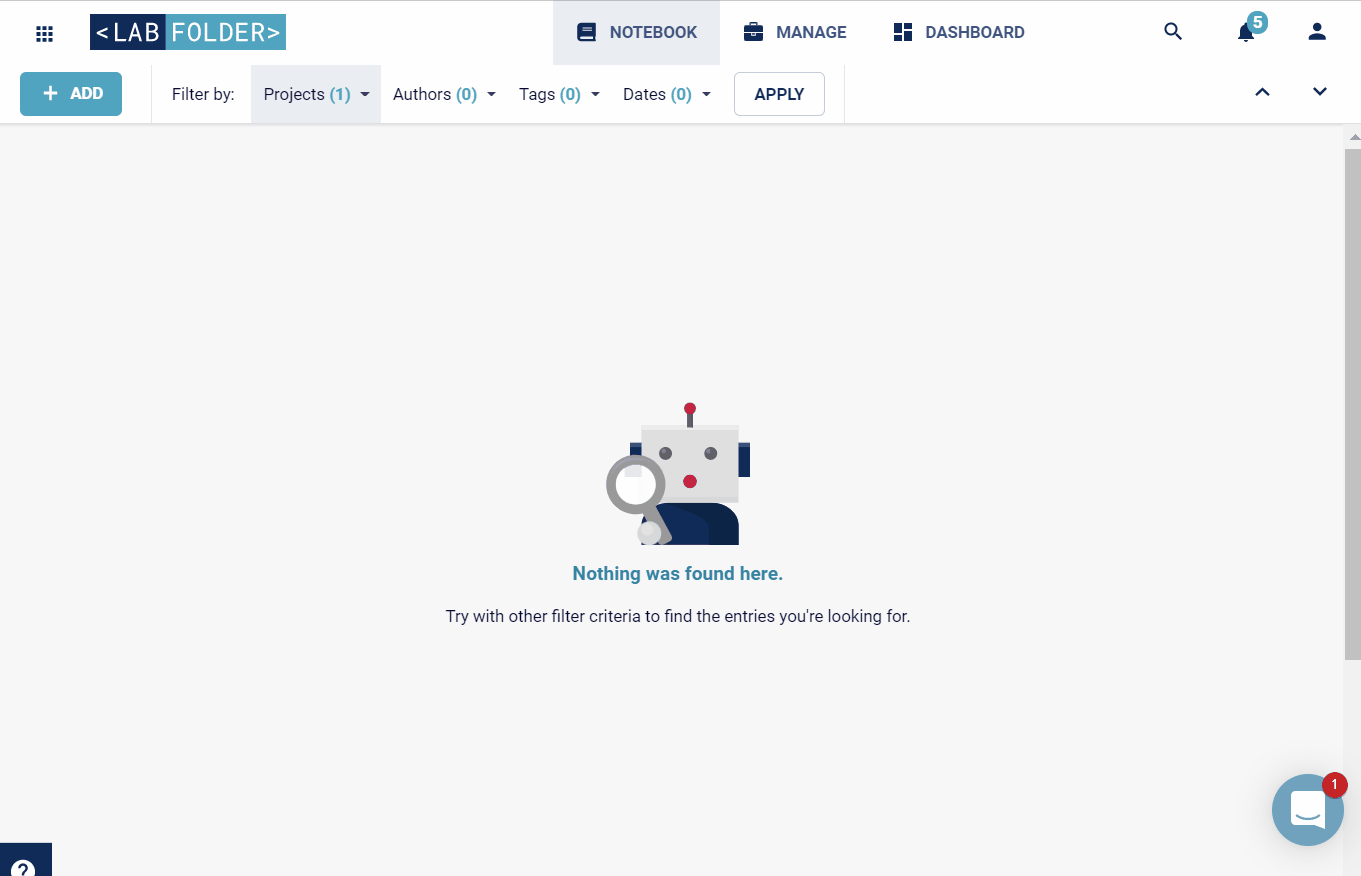 Go to Manage > Groups.
Click on the +Add button to Add new group.
Give your new group a name.
Invite your colleagues
Once your group is set up, you can invite collaborators to your project.
From this moment onwards, you can use your electronic laboratory notebook to collaborate with your colleagues in real-time. They will be able to add their own entries to common projects, create a shared repository of protocols and templates, comment on your data to speed up troubleshooting, and even assign and receive tasks to improve lab efficiency.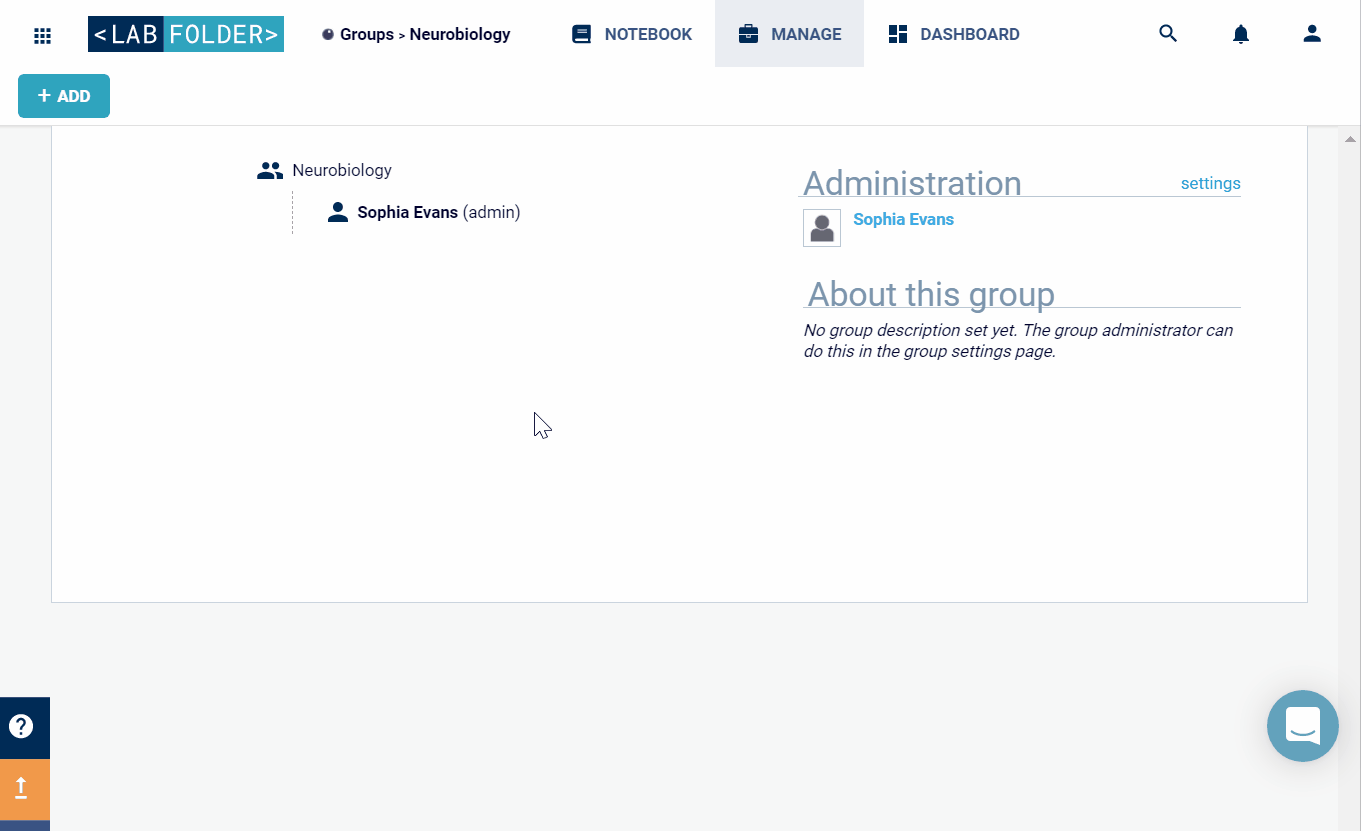 Go to Manage > Groups.
Invite colleagues by going into the group and pressing the +Add button to Invite user.
Enter their email address and start your collaborations!

In the free version you can only have 1 group and invite 2 additional scientists. If you want to onboard your entire team, check out the Advanced version.
Create a group project
Now that your team is set up, you can create a group project. Your team will then be able to start creating entries in those projects, visible to all relevant members.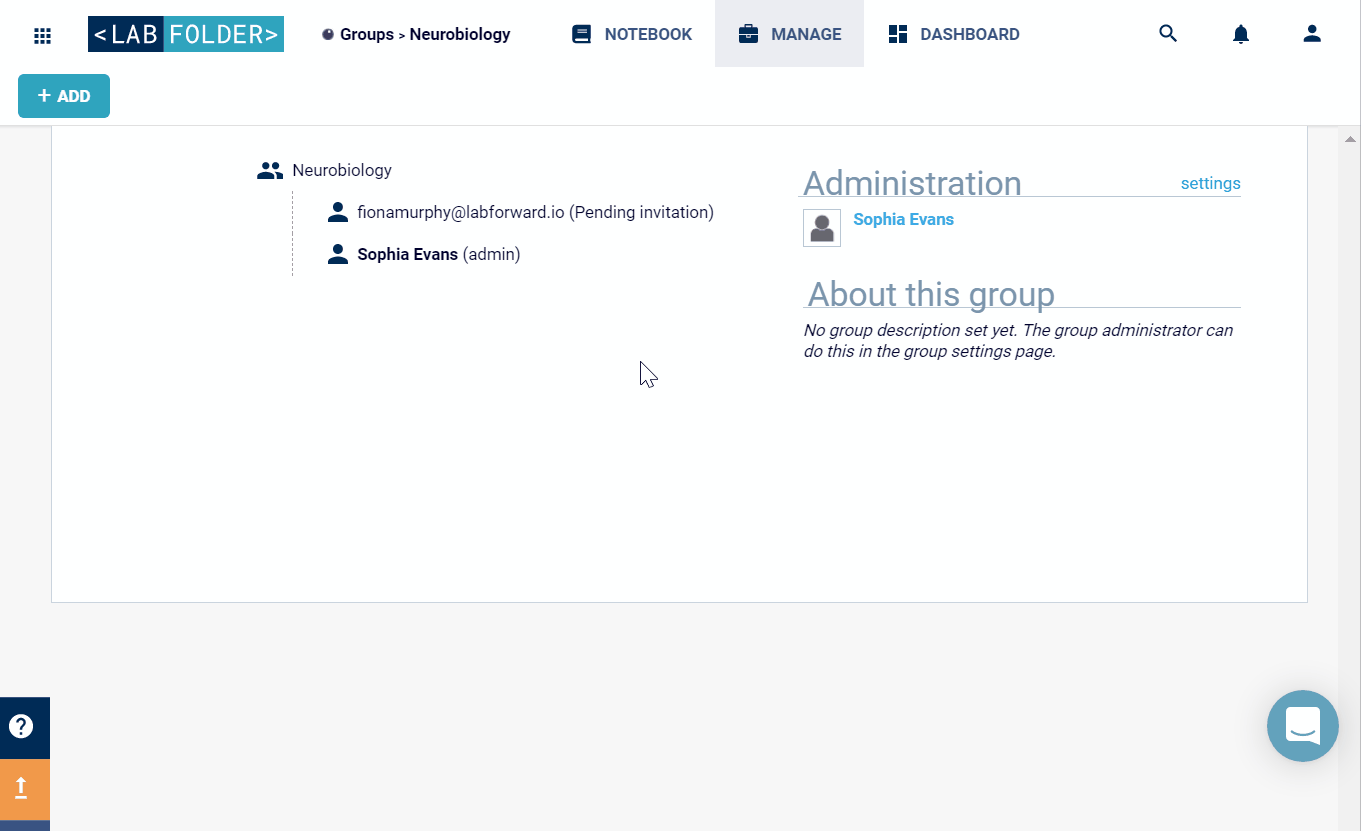 Go to Manage > Projects.
You will see that a Group Projects: Group X folder will have been automatically created when you created the group.
Click the +Addbutton and Add new project.
Choose the Group folder.

If you are using Labfolder's Advanced version, you will also be able to define custom share settings for each team member. This feature assures that the right people have access to the correct data.