Introducing an improved Data Export experience in labfolder
We have made major improvements to our export feature to make it easier for users to track all exports they have created within labfolder. Whether you're sending PDFs to clients or want to simply archive your research, labfolder's updated export feature interface will assist you to easily achieve that goal.
Under the 'Manage' tab of labfolder, you can easily find the new "Export" option that will have all your exports ordered chronologically and which type of export format it is, PDF or XHTML.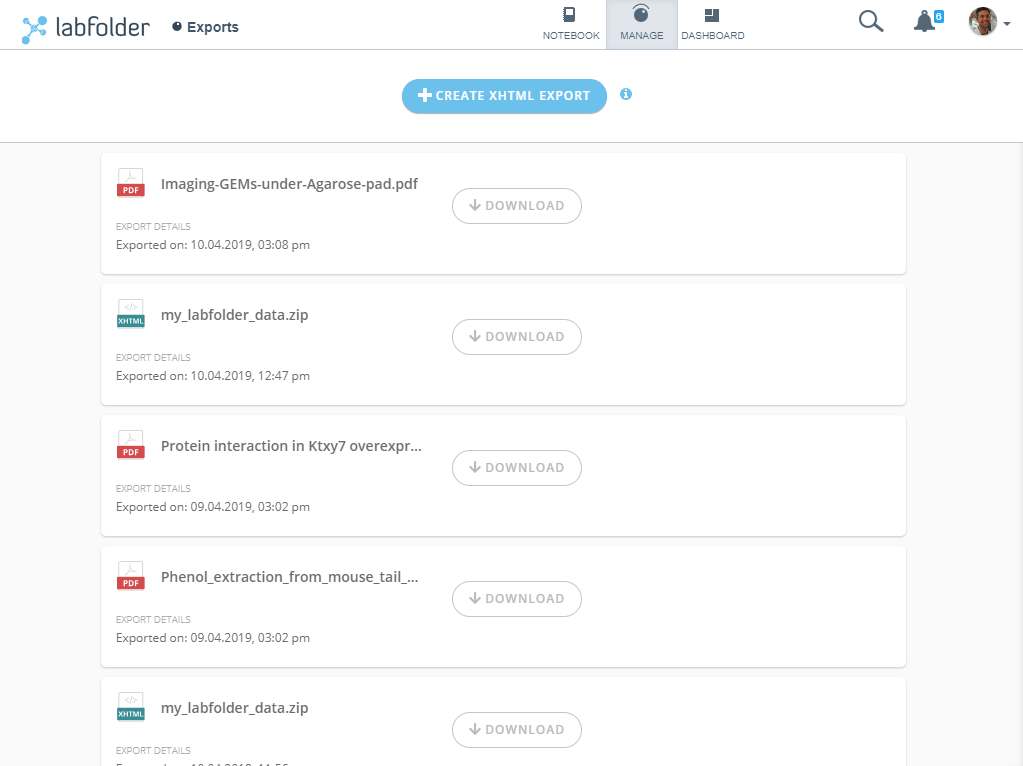 To give our scientists enough time to retrieve their files, exports are downloadable for up to 48 hours. For exports that have surpassed the 48-hour download period, not all is lost! These exports will be shown as 'listed items. You will always be able to see a history of all the exports you have done listed from most recent to the oldest export.
Users can export particular entries, templates or whole projects as PDF files, the latter of which can be pretty time-consuming, especially for those excessively large projects. Alas! Now the Exports page will provide you with a visual indicator regarding the status of these large exports and you will still be notified once the export process is finished.
While PDF exports are still initiated in the traditional way, upon activating our free XHTML app exports can now be directly generated from the new exports page rather than from the settings page.
"We recognized the need for a better export experience due to the feedback we received from our users. We are happy to present the newly created page which offers a more unified approach to exports." says Dr. Anne Kriegel, Head of Customer Success at labfolder.
Login to your account and check out our new exports page.