Labfolder's first-ever user workshop!
We have exciting news! At labfolder, we are hosting our first-ever User Workshop on the 2nd and 3rd of June at our headquarters on Bismarckstraße 10-12, 10625 Berlin.  The labfolder community is booming, so we thought we would bring our most dedicated users together to celebrate this fact.
We have some key speakers presenting at this event, such as Dr. Thomas Crouzier from KTH & Connected Researchers and Prof. Dr. Ulrich Dirnagl from Charité, as well as many more notable researchers.
The workshop offers a chance for scientists to congregate to share how they implement the features of a digital lab notebook and how they can be applied to specific, real-life examples. The event opens up discussion regarding the future of the digital lab notebook, the options it unlocks for digital science and what impact this could have on scientific research.
But this event goes beyond discussion around the digital lab notebook. Attendees brought together by their interest in the Electronic Laboratory Notebook can meet and network with like-minded scientists, as well as having the opportunity to meet the labfolder team. It is all about creating a community around labfolder and, as our platform aims to suit the scientist's needs and wishes, we want to strengthen the relationship with our users and understand exactly which aspects of the digital lab notebook we can work on to make your research that little bit easier.
If you would like to know exactly what we have planned for the workshop, here is a timetable of what is to come:
A printable version of the timetable is available here.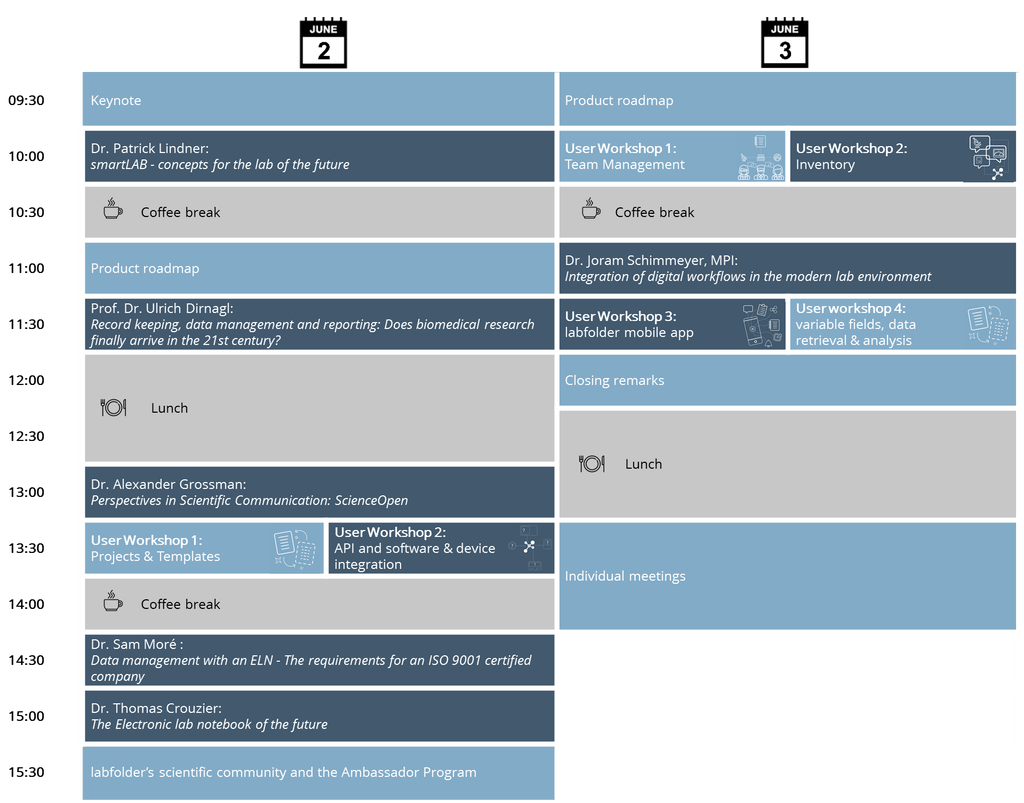 We can't wait and we look forward to organizing more workshops in more countries. If you would like to know more about the event or other upcoming user workshops, get in touch! Email contact@labfolder.com 
Pictograms designed by Freepix