Simplify the way you connect materials to each other and to your lab notes
Common table editors have been serving researchers for a long time in managing lab inventories. Often, the given functionalities do not suffice in handling the complex requirements of material documentation. Labregister has taken an alternative approach, and with its new material item overview, its capabilities are growing.
Research laboratories can only work efficiently if the availability of stocks and reagents can be guaranteed. Therefore, many scientists fall back on sheets of tables to track and maintain their materials. Unfortunately, this format falls short of providing the full picture lab managers require when listing important material inventory. Additional tracking of modifications, attachment of important purchasing information or data sheets as well as the reflection of complex relationships between materials, to mention just a few, are things that would benefit the lab personnel greatly.
The Labregister inventory manager substitutes simple listings and provides clear advantages through its direct integration to the laboratory notebook, simplifying material referencing. Tailored towards scientific requirements, additional file attachment, relationship and references attributes are designed to assist laboratory teams further.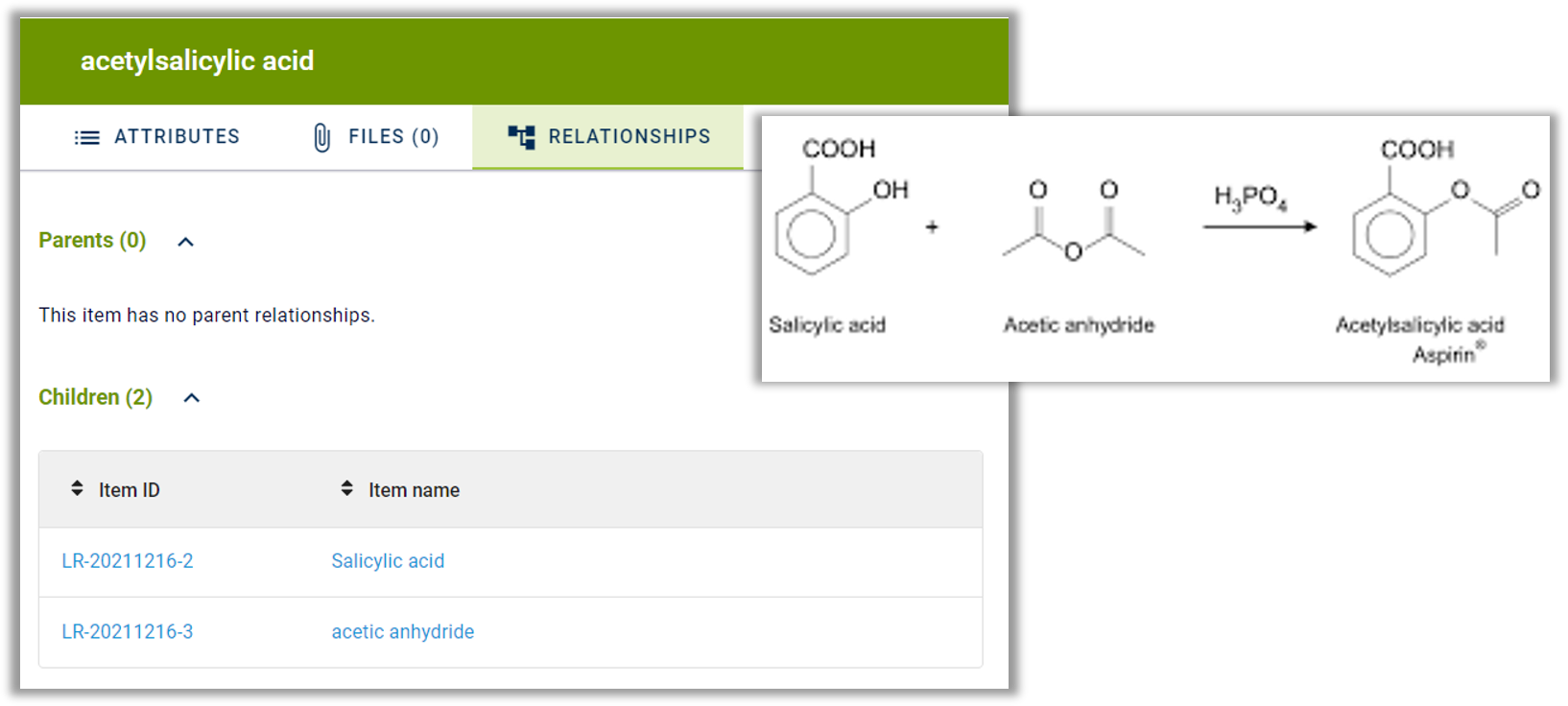 The newly released relationship attribute enables scientists to link multiple inventory items to each other and define a parent or child relationship as appropriate. In the example of a simple chemical reaction to produce Acetylsalicylic Acid (Aspirin), the reactants Salicylic acid and Acetic Anhydride will be defined as 'children' relative to the Aspirin product – represented as the 'parent' in Labregister.
By translating this to the broader concept, researchers can ensure quality standards through full traceability of their materials.
The concerted use of the Labfolder electronic lab notebook and the Labregister inventory manager facilitates complete research documentation. Experiment planning, execution and results can be recorded, including all used materials and reagents. By referencing materials with an appropriate link to Labregister, the individual material specifications can be directly accessed. Within the material item overview, users are able to retrieve relevant documents and relationships. Moreover, the references tab lists comparable data entries within Labfolder where the specific item has also been used.
Overall, Labregister's new item view enables scientists to comprehensively list laboratory stocks and reagents. To establish better insights into the material life cycle, users can track which experiments have been performed with an inventory item and also access related materials. The display of created and last modified dates in the inventory categories provides additional traceability. In this manner, using digital solutions advances the current way of working through additional capabilities specifically for scientific use.