We are hiring developers!
labfolder is on the hunt for developers! Our company is growing at an incredible rate both in customers and features and we need a team to further enhance our platform. If you are looking for a place to put your coding knowledge and experience into practice for a better world, this is why labfolder is the company for you.
The product

[pullquote align="right" cite="Natalia, Frontend web developer" link="" color="#e37900″ class="firstClass secondClass" size=""]"We are a growing team who truly believes that can do something great and we try our bests to make it happen" – [/pullquote]labfolder optimizes scientific research and science affects anyone and everyone. It drives progress, breaks barriers and benefits the entire planet.
Through creating software that reduces scientists' documentation time, improves communication between researchers and organizes data logically, we ameliorate development. We don't create our platform to simply generate money, we produce it so we can help drive progress.
Our platform is already used by thousands of scientists worldwide. Their teams are focused on tackling some of the most relevant questions in science today, including brain disorders, epigenetic phenomena, autoimmune disease and tissue engineering.
The startup environment
[pullquote align="left" cite="David, Backend developer" link="" color="#374858″ class="firstClass secondClass" size=""]"I would describe the working environment at labfolder as open and transparent. Whenever somebody needs help or advice with something there is always someone willing to give a hand."[/pullquote]
We started in 2012 and haven't stopped growing. Every employee has a direct impact on the present and future of labfolder. In a startup, it is impossible to settle into the daily grind – if a development is completed we start a new one.
Just like life science itself, we are always innovating and developing new ideas. Nevertheless, we don't let our dreams cloud the effective pipeline of development that we have in place.
Because there are so many priorities all at the same time, we work in Scrum sprints to try and organize the tasks. With this approach, at the end of each sprint, you can see exactly what has been achieved and what to work on next.
It is exciting and satisfying to watch the company grow because of your involvement.
The people
[pullquote align="right" cite="David, Backend developer" link="" color="#e37900″ class="" size=""]"The labfolder team consists of young motivated people and this is clearly noticeable in a normal working day." [/pullquote]
Without the employees who make up the company, there would be nothing. Motivation breeds motivation, making the work environment a buzz of enthusiasm and inspiration. Commitment is a natural instinct to the drive and talent that multiplies in our office.
We work with flat hierarchies – the word "boss" is forbidden and everybody's ideas are equally valued. The team is extremely international and diverse: we currently have employees from Finland, France, Germany, Great Britain, Mexico, the Netherlands, Portugal, Romania, Russia, Spain, Ukraine and the USA all working together. 
But with hard work, we also need a lot of play. Team lunches twice a week, Friday evening drinks, weekend trips, team building events – we work as a team and we celebrate as a team.
[pullquote align="full" cite="Natalia, Frontend web developer" link="" color="" class="" size=""]"our team spirit is reflected after the working hours, with our events, like the already traditional labdrinks… because the company that parties together, stays together!" [/pullquote]
.
Inspired to join the team? Here are our open developer positions: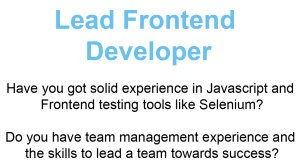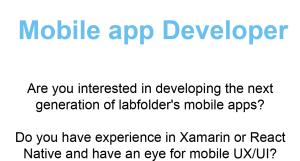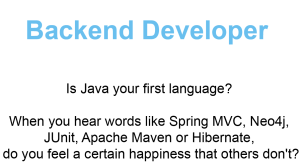 (more job openings can be found here)