1st Science Hack Day in Berlin!
Science Hack Day brings together designers, developers, scientists, and other geeks in the same physical space for a brief but intense period of collaboration, hacking and building cool stuff. On Science Hack Day 2013, a range of international teams came together in order to prepare and present a selection of outstanding science hacks – for the first time ever in Berlin! Since the very first Science Hack Day ever in London in June 2010, past events took place in Kenya, Mexico, the USA, South Africa, Cyprus, the Netherlands, Ireland, the UK, Switzerland, Brazil and Canada. The very first Science Hack Day Berlin was proudly supported by labfolder.
Science Hack Day: What the heck is a hack?
The definition of a 'hack' is to bring about a quick solution to a given or self-chosen problem. The solution does not have to be the most elegant, but often enough turns out extremely clever and innovative. Soft and hard skills are being combined in new and revolutionizing ways from different sources and experts. You can find more details and SHD background information at sciencehackday.com/about.
The Berlin Science Hackathon
Starting off on Friday evening, everyone from designer, scientist, developer or other science enthusiast, was able to pitch a hack idea to the crowd of about 70 people to build a team. 13 teams of 1 to 6 members were assembled and started hacking their ideas into source codes and models right away – the entire night and day. The pure length of hacking coined the term 'hackathon'. After 2.5 days on Sunday afternoon, the hack products were presented to an interested audience and the following jury:
The Jury
From a total of 13 hacks, six were awarded for their creativity, scientific relevance, show effects, design and complexity at Science Hack Day 2013. The audience gave the sixth and probably most prestigious award, The Audience' Favourite Hack.
Most CREATIVE hack: Scanning Tunneling Microscope Data Visualization
Hacker: Abe Pazos > @hamoid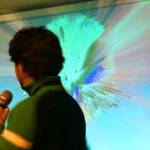 Put some beautiful data up on your wall! A 3D printer converts data into artwork by moving a brush with liquid ink in 2D. Scientists can play around with precision and intensity to create appealing paintings from their data. Additionally, a fan can be used to blow ink drops into forms of stripes and patterns.  According to Abe, an upgrade would be to also visualize personal things like e-mail texts, tweets and facebook activity to allow people to say, "This is me, as a painting".
Most SCIENTIFIC hack: The Windy Globe
Hacker Team: Ellen König, Mario Schröder, Norman Khring, Kai Komhuber, Dim Coumou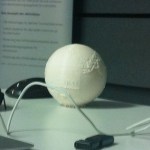 Again, the 3D printer came into play for the purpose of visualizing climate data from the past, present and future. Based on a small 3D earth model, additional features for winds and streams (meridional velocity of the jet stream of daily weather data) were projected as height on the respective coordinates, thereby making abstract data tangible for both scientists and the interested public.
Best SHOW hack: Cracking the Ivory Tower
Hacker Team: tba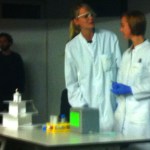 For young scientists and all those who wonder how to reach the ultimate academic goal namely 'Professorship' a team of smart ladies designed a game where you can go through all pitfalls and shortcuts you might encounter when climbing the academic career ladder: spoil a probe in the lab >> throws you back by 2 weeks; publish a paper >> fast forward; bribe the institute management >> super fast forward; revealed plagiarism  >> throws you way back; work hard and long hours >> slow but continuous forward. The game is slightly science-politically, but also very entertaining and offers a critical yet comprehensive view on academic pathways.
Best DESIGN hack: The Spit Lamp
Hacker Team: Lucy > @lu_cyP, André, Serena, Nuria > @Nuria83 and Marc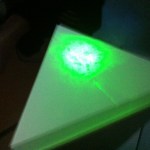 Building a simple microscope of a water drop wasn't the new thing in this hack, but converting it into a piece of art to place in your living room is quite a novelty! Some saliva crossed with a weak laser and projected on a screen on top of a beautifully designed lampshade brings you a lot closer to the residents in your mouth cavity, you can actually see bacteria and multicellular organisms move around; bringing you a new home design era after the lava lamp.
Most DIFFICULT hack: Airbone microMAV sensor network
Hacker: Stephan Wieschebrink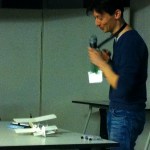 The technical description reads complicated enough to justify the Award: "[Stephan] used Arduino pro minis along with tiny RFM22B transceiver units in order to both control swarms of micro aerial vehicles and retrieve sensor readings from each of them using a dynamic ad-hoc p2p networking protocol". Any questions? If yes: please refer to the hacker. What I can testify is that the little aeroplane actually flew from the 4th floor safely down to the betahaus backyard at ground level!
The AUDIENCE's favorite hack: Evolution of Monsters
Team: tba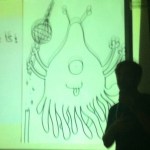 What would the perfect monster look like? Approaching this question from an evolutionary point of view the team started with a range of isolated and schematic features like body shape, eye forms, mouth versions and so on and so forth. The further down in evolutionary timeline, the more precise the features become. You ask a random number of people with statistic significance (> 20). The most convincing part of this approach is the verification, where you give a short list of monsters to another crowd of people (i.e. your facebook friends) to let them select their favorite, which correlates with the evolution product! This hack highlights the potentials of evolutionary crowdsourcing for design development.
As mentioned earlier, these six were only the awarded hacks of a total of thirteen presentations. Explore the complete list with descriptions and coding information of all demoed hacks from the Science Hack Day Berlin 2013. SHD-Berlin on twitter at #SHDB and on facebook.com/ScienceHackDayBerlin. Find a List of Featured Science Hacks from around the globe. No SHD in your city? Learn How To Organize a Science Hack Day.